Turbo VPN- Free VPN Proxy Server & Secure Service
2.9.13
A Smooth Free VPN Service
While Virtual Private Networks, better known as VPNs, were extremely uncommon a decade or so ago, they have now become household names due to the rising internet censorship trend. With governments not hesitating in blocking access to websites for a variety of reasons, VPNs have become the go-to choice for a number of people to get access to whichever website they want whenever they want. The fact that discussion on privacy concerns has become a lot more heated has also helped the cause of VPNs. With a Virtual Private Network connection, you can anonymously surf the internet without any fear of being tracked or without any fear of loss of private data. The reason is that the VPNs mask your actual IP address and assign a different IP address originating from the country where the server with which you get connected. This helps you get around the internet censorship your government tries to impose on you while with an IP address in an entirely different area; nobody can get hold of your private data. Data safety and usage flexibility are important in free VPN apps these days and TurboVPN tries to offer great flexibility and a smooth internet experience with its app.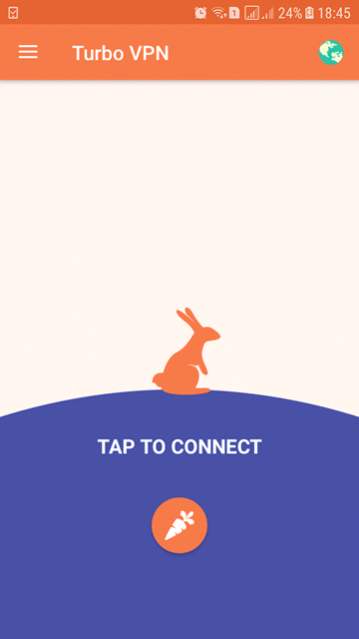 TurboVPN has a very minimalistic app design and this is great, as you do not really want to get into the complicated world of virtual private networks. The app keeps it simple on its homepage with a simple connect button showed in the middle of the screen. As soon as you tap on the button, you would see a rabbit start running and this means that the app has started to look for servers with which you can be connected. As soon as the app finds a suitable and solid connection, you would be informed that a secured internet connection has been established with the country from which your IP would originate would be shown at the top. To check the validity of the connection and to check whether it will legitimately help you or not, you can try opening any website blocked in your country to see if it now becomes accessible. This free VPN is normally on the money with its connections and there is hardly ever a customer who faces problems with a private connection that does not work.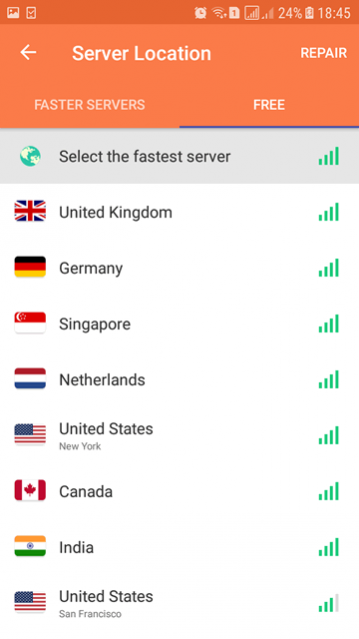 The free VPN app's great feature is the flexibility it offers. You can take a look at all the servers with which you can be connected. There are high-speed premium servers that can only be access with a paid membership account. However, there are enough fast speed servers available in the free section as well that you won't have much to complain about. The free servers are available in Canada, US, Germany, India, Holland, UK and Singapore. The app shows the health of the connections alongside their names to give you an idea of the internet speeds you will access with the given server. You can choose your server on your own or let the app decide on the fastest server. The choice is all yours with this free VPN app.
TurboVPN also does a great job of offering flexibility as far as the apps that would use the VPN connection. This is great for people who fear that VPNs themselves use data from their users. If you have such a fear, you can exclude the apps that might contain your private data from using the TurboVPN connection. You can decide on the apps from the Settings menu. For instance, if you only want to browse the internet, you can allow Chrome to use the service while disallow other apps from using the free VPN connection.
Features:
One-touch VPN connection option
Variety of servers available in different countries available
Easy to filter apps that you don't want to consume the free VPN connection
Conclusion:
If you are worried about being tracked by various internet organizations or have trouble in accessing websites from your own region, TurboVPN is a great free VPN app that can truly help you out. A fast connection and reliable servers make this app a must have for anyone suffering from internet censorship.
---
Add a review
Tell us your experience with
Turbo VPN- Free VPN Proxy Server & Secure Service
2.9.13
RELATED PROGRAMS
Our Recommendations
---
---
---
---